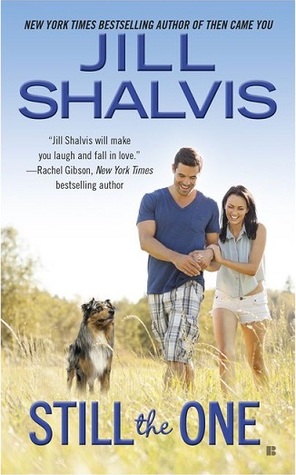 Synopsis:
Darcy Stone is game for anything — except sexy Navy veteran and physical therapist A.J. Colten, the guy who'd rejected her when she'd needed him most. Now the shoe is on the other foot and he needs her to play nice and help him secure grants for his patients. Unfortunately, Darcy can't refuse. She needs the money to fund her passion project: rescuing S&R dogs and placing them with emotionally wounded soldiers.
A.J. admits it — Darcy is irresistible. But he's already been battle-scarred by a strong-willed, vivacious, adventurous woman like Darcy, and he's not making the same mistake twice—until he and Darcy are forced to fake a relationship. Growing closer than they'd ever imagined possible, Darcy and AJ have to ask themselves: how much between them is pretend? What's the real thing? And where does it go from here?
Genre:
Contemporary Romance
It has felt like a long wait for the newest book in the Animal Magnetism series from Jill Shalvis, but it was completely worth the wait. While we met Darcy briefly in a previous book, we really got to know the REAL Darcy in this book. Darcy is a truly wounded soul - a free spirit who has decided that if she makes no true friends and emotional connections, then she can't continue to be hurt when they leave her - because they all do! Early on in her life, she decided that her family didn't care what she did, so she did what she wanted, when she wanted - the more outrageous the better. And that continued into adulthood until a serious accident slowed her down. Despite the fact that her siblings and true friends stood by her after the accident that left her severely injured, she still believes she is unlovable and as a result, refuses to love. Ultimately, the person she refuses to love is herself. She puts up an amazingly strong front but behind that strength hides a wounded soul who is constantly waiting for the bottom to drop out of her world. Darcy is a wonderfully complex character and Jill Shalvis did a fantastic job developing the layers of Darcy's personality and her psyche - and peeling the layers of that onion has fallen to AJ.
AJ couldn't be more different than Darcy. We don't see as much into AJ's background and childhood as I would have liked, but it appears that regardless of his strict upbringing at the hands of a military father, nothing fazes AJ. Nothing. He rolls his eyes at Darcy's obsession with gummy bears - but always has a bag handy when he knows the going is getting rough! He pampers her when pampering is warranted, but knows when to step back because Darcy is determined to go it on her own. While his exterior portrays a man with few cares in the world, the reality is that AJ cares deeply for those in his life and he demonstrates his caring is any number of ways. He realizes early on the depth of Darcy's insecurities and understands his uphill battle to win her trust - and her heart. I loved AJ's character because it didn't matter what Darcy did, he continued to stand by her side, supporting her as needed and constantly displaying his pride in her accomplishments. He realizes that the person she doesn't trust is herself and his actions continue to demonstrate that he trusts her, that she should trust him, and ultimately that she should trust herself to love him and be loved by him. I loved how AJ was always so quick to call Darcy on her lies. She wasn't truly a liar - she just lied to herself and those lies often came out of her mouth! While I wish the author had included a bit more background / information / insight into AJ's life, I loved him as a character and could just FEEL the peacefulness rolling off him in waves when he was in the room.
I don't often comment on cover art but in this case I felt I needed to. I know that the authors have little control over the cover art - but while I felt the cover accurately depicted the AJ I saw in my head, Darcy on the cover was NOTHING like described by the author. I could see Darcy's wild, curly hair in my mind as the author described it, but the cover doesn't show the heroine with hair like that. Her hair in the story was as much a part of her personality as her love of gummy bears, her denial of her true feelings, and her immediate jump to lying about those feelings were, but the cover just didn't show the Darcy I came to know in the book. Don't get me wrong - the cover is compelling and peaceful and draws me in to the book, I just didn't think that was Darcy on the cover!
I felt the story moved at a good pace, the dialog was compelling and the story involved realistic aspects that drew us in and made us relate to and love the characters inside. Jill Shalvis continues to invite us back to Sunshine, Idaho and make us want to move in and stay a while.
Disclosure: I received a free copy from Penguin Random House in a contest.
Links:
Goodreads - Amazon - Barnes and Noble - Kobo
About the Author:
New York Times
and
USA Today
bestselling author Jill Shalvis lives in a small town in the Sierras full of quirky characters. Any resemblance to the quirky characters in her books is, um, mostly coincidental. Look for Jill's sexy contemporary and award-winning books wherever romances are sold and click on the blog button above for a complete book list and daily blog detailing her city-girl-living-in-the-mountains adventures.