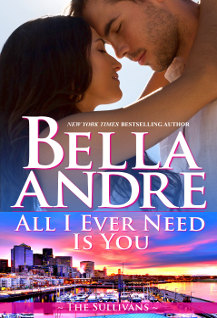 Seattle architect Adam Sullivan is well known for his brilliant historic building restorations—and for having absolutely no interest in love and marriage. He's happy for his siblings and cousins who have found true love, but though they're clearly hellbent on seeing him settled, his family is just going to have to accept that Cupid's arrow will be skipping this Sullivan. That is, until he meets Kerry Dromoland…and suddenly Adam starts to question everything he once believed to be true about falling in love.
As one of the top wedding planners in Seattle, Kerry has been waiting her whole life to find her own true love. So even though Adam makes her heart race and her body heat up every time they're together, she knows better than to think he could be "the one." Still, knowing he's Seattle's biggest player doesn't make it any easier to resist his breathtaking kisses and wicked caresses…or the fact that he makes her smile more than any man ever has.
But when Kerry desperately needs Adam's help—and he comes through for her without the slightest hesitation—she begins to realize that there just might be more to the man she can't resist than she'd previously thought. Can the bad boy with no interest in being reformed—and the woman who has no interest in reforming a bad boy—find forever together?
In true Belle Andre fashion, All I Ever Need gives us a fantastic glimpse into the lives of two people who don't realize they are perfect for each other. It provides us with a final look into the Sullivan's of Seattle with the one Sullivan - Adam - who believed he would never find "the one" for him. It introduces us to Rafe and Brooke's wedding planner, Kerry, who is a sucker for love and is looking for her "happily ever after" It is a wonderful dichotomy in that while Kerry believed she was looking for her happily ever after, and Adam wasn't looking for anything permanent, the reality is quite the opposite. The author does a wonderful job of having both Adam and Kerry travel a path from one end of the spectrum to the other, passing each other on the way in opposite directions, and not even realizing it. The transition was so subtle for both of them, and I really enjoyed how the author had Adam and Kerry realize what was happening to them - in each case, it was like they were being hit upside the head with a cast iron skillet in order to get their attention to realize what was happening to them!
Adam was a wonderful character. While he was reputed to be a "playboy", I think he was so much more than that. A man who dated many women but committed to none, his commitment to his family and friends demonstrates that he is more than capable to committing - he just hadn't found the right woman. While he scoffs at the "love at first sight" his brothers and cousins experienced, he realizes quickly when it happens to him. He can't label it as "love" for a while but it is. His wooing of Kerry was definitely unique and sweet, but his true dedication to her was demonstrated in every action. If I had to give Adam a "love language", I think acts of service pegs him pretty well.
While Kerry believes she's looking for happily ever after, the reality is much more complex. While she thinks she's been holding out for her perfect match, she really was just holding on to her fear of loss and her actions towards most of the people in her life demonstrate she's acting from a place of fear. She treads lightly in her relationships for fear of losing them, as she did her father. So I'm not sure she was looking for her happily ever after at all, because deep down and I'm not sure she thought he existed.
As Adam and Kerry each transitioned in what they believed were their wants and needs, it drove them towards each other. It was interesting to watch as their roles changed, with Adam taking on the mantra of "happily ever after" and Kerry stepping back. I loved Adam's patience as he realized Kerry's struggles and was sensitive to them, yet determined to achieve his ultimate goal - a permanent relationship with Kerry.
I really appreciated the relationship between Adam and his father in this book - it's as if his father was his conscience, and it felt like the conversations Adam was having with his father were really him working things out in his mind with her father serving as his sounding board. I'm not sure his father needed to says much at all as he was really just saying to Adam what he couldn't admit to himself.
All in all, this was a nice conclusion to the Seattle Sullivans - with a brief introduction to the East Coast Sullivans, which will enable us to continue our love affair with the Sullivans on either coast!
Links:
Goodreads
-
Amazon
-
Barnes and Noble
-
Kobo
About the Author:
Bella Andre is the New York Times, USA Today and Publishers Weekly bestselling author of "The Sullivans" and "The Morrisons" series.
Having sold more than 4 million books, Bella Andre's novels have been #1 bestsellers around the world and have appeared on the New York Times and USA Todaybestseller lists 21 times. She has been the #1 Ranked Author at Amazon (on a top 10 list that included Nora Roberts, JK Rowling, James Patterson and Steven King), andPublishers Weekly named Oak Press (the publishing company she created to publish her own books) the Fastest-Growing Independent Publisher in the US. After signing a groundbreaking 7-figure print-only deal with Harlequin MIRA, Bella's "The Sullivans" series is being released in paperback in the US, Canada, and Australia.
Known for "sensual, empowered stories enveloped in heady romance" (Publishers Weekly), her books have been Cosmopolitan Magazine "Red Hot Reads" twice and have been translated into ten languages. Winner of the Award of Excellence,The Washington Post called her "One of the top writers in America" and she has been featured by Entertainment Weekly, NPR, USA Today, Forbes, The Wall Street Journal, and TIME Magazine. A graduate of Stanford University, she has given keynote speeches at publishing conferences from Copenhagen to Berlin to San Francisco, including a standing-room-only keynote at Book Expo America in New York City.

If not behind her computer, you can find her reading her favorite authors, hiking, swimming or laughing. Married with two children, Bella splits her time between the Northern California wine country and a 100 year old log cabin in the Adirondacks.