Synopsis:
Even though Meg Anderson's hell-raising days are over, coming home to Anderson Butte isn't easy, especially when her impossible-to-please dad is the mayor and her do-gooder siblings run the place. But with another job lost and the gorgeous father of her daughter trying to make contact after disappearing three years ago, a break is definitely in order. Hopefully the little town filled with big, juicy secrets can help.
After being off the grid for years, Josh Granger, a man with his own secrets, wants Meg and his daughter back. But first he has to get past townspeople as protective as a pack of rottweilers. He's not the man Meg thinks he is, but he can't tell her why…not yet.
As Meg slowly warms to Josh, it's clear the old spark is still there. But when his secret is exposed—along with Meg's own shocking revelation—will it tear their family apart again, or bind them forever?
Genre:
Contemporary Romance, with a touch of suspense
My Review:
You know a book is gonna be great when you are introduced to a gun-totting, orthopedic-shoe-wielding Granny in the first chapter! It Had to Be Him is a great mix of romance, second chances, comedy, and a bit of suspense and intrigue thrown in. I really enjoyed how the author set the stage from the beginning of the book with Meg's return to town. Meg has some major obstacles to overcome with the town's - and her family's - perception of her due to her actions as a teen. The reader is immediately introduced to the dynamic of the town, and Meg's family, and you find yourself rooting for her from the outset!
The author does a masterful job of setting up the reader with regards to Josh. Meg's "introduction" of Josh made us fear and hate him before we ever met him - boy were we wrong! Josh endears himself to me as soon as I meet him, just as he began to win the town over with his sincerity. As soon as I got to know Josh, I was really cheering for Meg and Josh to solve their problems and find their happily ever after. Ah the innocence of youth - Haley immediately loved her Daddy and I enjoyed seeing Josh grow as a father. I liked Josh even more once I saw where he grew up and he developed his relationship with Eric - we all gained insights into Josh's background through getting to know Eric. I think it's evident that I really like Josh.
All in all, the author does a wonderful job of introducing us to Anderson Butte and the town that protects and defends their own, has an active gossip grapevine, and sports the occasional celebrity hoping to relax in anonymity. I look forward to visiting Anderson Butte again as other members of the town search for their happily ever after!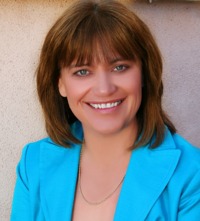 Tamra Baumann became hooked on writing the day she picked up her first Nora Roberts novel from her favorite bookstore. Since then, she's dazzled readers of contemporary romance with her own lighthearted love stories. She was the 2012 Golden Heart winner for Contemporary Series Romance, and has also received the Golden Pen Award for Single Title Romance. Born in Monterey, California, she led the nomadic life of a navy brat before finally putting down permanent roots during college. When she's not attending annual Romance Writers of America meetings, this voracious reader can be found playing tennis, traveling, or scouting reality shows for potential character material. She resides with her real-life characters—a husband of thirty years, two kids, and their allergy-ridden dog—in the sunny Southwest.
Website:
http://www.tamrabaumann.com/