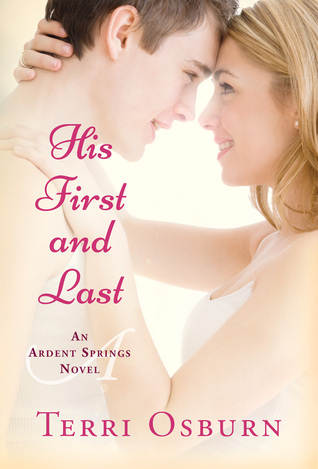 Synopsis:
At eighteen, Lorelei Pratchett couldn't wait to get out of her hometown. Twelve years later, her Hollywood dreams have fizzled and she's back—temporarily, she thinks. Though she throws herself into saving the old theater and starting a baking business, small towns have long memories, and Lorelei's wild past still haunts her. It doesn't help that her ex-boyfriend, Spencer Boyd, is even hotter, smarter, and more distracting than before.
The fiery Lorelei that Spencer knew years ago may have become closed off and cautious, but their chemistry hasn't faded one bit. Losing her a second time is unthinkable to him, yet Lorelei is convinced she doesn't belong in Ardent Springs. Somehow, Spencer needs to show her that everything she needs is right here: family, friendship, new beginnings…and a man who's never stopped loving her.
His First and Last is an irresistible story of first love and second chances.
Genre:
Contemporary Romance
My Review:
I have previously read all of Terri Osburn's Anchor Island novels and I was excited to get to know the residents of Ardent Springs in the first novel, His First and Last. It took me a while to "get it", but this title is perfect for this book. As I first started reading the book, I had a hard time getting into it - and I was surprised. It took me quite a few chapters to really start relating to the characters and the town, but once I did, I really enjoyed the book. The author introduces us to Lorilei and Spencer early on in the book, and it doesn't take long for the reader to get the full story of what was going on between those two - even if they didn't know each other secrets yet. The author draws you in to the characters lives and you quickly feel invested in what happens to them - their wrongs become your wrongs and you feel the need to defend Lorilei when she is being put down, or hugging Spencer when he hurts. That's the sign of a good author when she can make you feel the feelings of the characters in her books.
The author masterfully introduces two characters that you love to hate - and they are related! At every twist and turn in the book, you'll find either the mayor, Jebediah, or his daughter, Becky, right there, ready to stir up trouble. They are both wonderfully horrible characters and they definitely deserve each other as family. I also enjoyed getting to know Granny - Lorelei's conscience. Whenever Lorelei has doubts about her return, or her ability, Granny is there to be her voice of reason or give her a smack upside the head when she needs it. And she knows how to wield a shotgun if she needs to! I also enjoyed getting to know Snow, another colorful character living in the town of Ardent Springs. I especially liked that she is willing to give Lorelei a chance and supports her in her quest for "respectability" in town. I look forward to getting to know more about Snow in her own story.
His First and Last epitomizes Spencer's feelings towards Lorelei, but it also signifies so much more depth. His feelings about his father, and for his mother; and Lorelei's feelings about her mother, and her father; and their feelings about their past and their future are all wrapped up in the story of Lorelei's return to Ardent Springs. The author has created a wonderful small town in Tennessee that would have a new visitor around festival time, if only I could find it on the map! A fantastic start to the Ardent Springs series and I look forward to future books in the series from Terri Osburn.
Links:
Goodreads
-
Amazon
-
Barnes & Noble (PB)
About the Author:
Terri fell in love with reading at a young age, starting with condensed versions of classics such as The Wizard of Oz, The Hound of the Baskervilles, and Little Women. She fell into Romance novels around Junior High and never looked back. Authors such as Judith McNaught, Kathleen Woodiwiss, and LaVyrle Spencer kept her going through high school, then she bounded into the 90s with authors like Julie Garwood, Dorothy Garlock, Johanna Lindsey and countless others.
Her bookshelves are lined with beloved keepers (many sporting Fabio covers), some tattered and torn but all filled with passion, love, lust, and above all, Romance. From the Wild West to Romping Regency ballrooms to boardrooms and charming small towns, her library covers the spectrum.
Terri makes her home along the coast of Virginia with an eye-rolling teenager, two fat tabbies, and a hyper yorkiepoo. In her nefarious past she worked in customer service, fund-raising, catering, and was even a train conductor. (In the mall. Not as impressive as it sounds.) She was also a Country radio disc jockey for eight years, which makes her one of those rarest of author creatures – an extrovert.
Terri is a member of
Romance Writers of America
®, Virginia Romance Writers, and a 2012 Golden Heart® finalist in the Contemporary Single Title category. Her debut novel
MEANT TO BE
launched from Montlake Romance in May 2013, with the follow up,
UP TO THE CHALLENGE
, out in October 2013.
Website:
http://www.terriosburn.com/