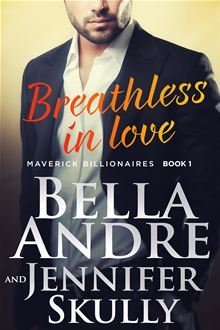 Synopsis:
Will Franconi has a dark past that he's kept a closely guarded secret―very few people have ever heard his real story and he plans to keep it that way. After surviving a hellish childhood, he's now living the dream life where everything he touches turns to gold. But something's missing. He doesn't quite know what until a simple letter from a teenage boy brings Harper Newman into his life. A woman who just might fill up the empty places inside him…if only he could ever be worthy of her love.
When a man has more money than he could possibly spend in five lifetimes, Harper has to ask herself what Will Franconi could possibly want from a woman like her? She's learned the hard way that rich men always get what they want no matter the cost. If it was just herself she had to worry about, Harper would manage, but she's guardian to her younger brother who depends on her for everything. After nearly losing his life in a car crash, she's vowed never to let anyone hurt him ever again.
Still, sometimes Harper can't help but long to change her story from one of an always-cautious woman to an adventurous tale of a heroine who's wild and free…especially when Will's kisses and caresses make her utterly breathless. And as he begins to reveal his story to her, she discovers that he's so much more than just another wealthy, privileged man. He's kind and giving, and he fills up all the spaces inside of her heart that have been empty for so long. Together, can they rewrite their stories into a happily-ever-after that neither of them had previously thought was possible?
Genre:
Contemporary Romance
My Review:
I really enjoyed
Breathless in Love
, the first book in the
Maverick Billionaires
series. This is also the second book I've read recently that was co-written, and I think its a great concept and have enjoyed seeing a mix of styles when authors work together. In
Breathless in Love
, we meet two complicated characters in Harper and Will. Harper spends a lot of time worrying about station - hers, the men she's interested in, and others in her life. Meanwhile, Will has everything Harper thinks she despises, but doesn't act like he does. What's normal for him is so out of the realm of normal for her, its almost unreal. Despite his enormous wealth, Will seems very down to earth to me and I think that's due to his internalization of how he started in life and his insistence on not returning to that life. I don't think he needs his tattoo to remind him of who is was and where he came from. His background drives his enormous need to protect everyone around him.
"In that moment, as he held her tight in her arms and she held him right back, Will vowed to do everything in his power to prove he could be good for her as well. He wouldn't let her down."
There are so many parallels in this book between Harper's life and speed, and cars. I believe she's feeling her life slipping away from her quickly, and her fears over speed brought on by her brother's accident have manifested themselves into slowing down her life - Jeremy's development, her relationships, everything. Its like she wants to STOP time. Whereas, Will's life is always on fast forward. Its as if he's always running away from himself and he has to do it as quickly as possible. I think part of his fascination with cars is due to his history with stealing cars and ultimately the event that changed his life,which also involved a car. So, for both Harper and Will, speed plays an important part of their lives, but in opposite ways. You wouldn't think they'd be suited for each other as a result of that, but they are. I think Harper helps Will to slow down and see how he is NOW, not through the lens of his past; and Will helps Harper to see that "full speed ahead" shouldn't mean fear for her - but that she should embrace her and Jeremy's futures. Despite Will's need to run away from what he believes is is "true self", he feels nothing but confidence in his feelings for Harper.
"I think I've been in love with her from the first moment I saw her standing outside my hangar with her brother, so protective, so beautiful, so strong." ~Will
I really enjoyed the character development in
Breathless in Love
. Harper and Will have depth and Jeremy's character, mentally disabled from an accident, is so wonderfully depicted that I feel like I can SEE him waving hi with his entire body, and speaking entirely too loud at the wrong times. Bella and Jennifer do a wonderful job of weaving together a story that has you laughing and crying and fearful right along with the characters in the story. I also like that while there is angst at the climax of the story, this book doesn't follow the typical "break up", "reconsider", "get back together" scenario. Harper does take time to deal with what had happened to Jeremy, but she is quick to realize that Will wasn't to blame, and her own fears are creating an environment detrimental to her and Jeremy. She is quick to come to this realization and while Will
expects
for Harper to blame him, as he blames himself, she is quick to reaffirm her feelings for Will and how she wants a future with him.
"You were once a little boy who didn't have anyone to take care of him, and now you're a man who always takes care of everyone around you. You make us all better people just by being in our lives." ~Harper
In typically Bella Andre fashion, the book gives us an Epilogue that brings closure to Harper and Will's story, but opens the door to the next story in the
Maverick Billionaires
series. I look forward to reading about the rest of the Mavericks, brothers of the heart and alpha men!
Disclosure: I received a free copy of this book in exchange for an honest review.
Links:
Goodreads
•
Amazon
•
Barnes and Noble
•
Kobo
•
iBooks
About the Authors:
Bella Andre
is the New York Times, USA Today and Publishers Weekly bestselling author of "The Sullivans" and "The Morrisons" series.
Having sold more than 4 million books, Bella Andre's novels have been #1 bestsellers around the world and have appeared on the New York Times and USA Today bestseller lists 18 times. She has been the #1 Ranked Author at Amazon (on a top 10 list that included Nora Roberts, JK Rowling, James Patterson and Steven King), and Publishers Weekly named Oak Press (the publishing company she created to publish her own books) the Fastest-Growing Independent Publisher in the US. Known for "sensual, empowered stories enveloped in heady romance" (Publishers Weekly), her books have been Cosmopolitan Magazine "Red Hot Reads" twice and have been translated into ten languages. Winner of the Award of Excellence, The Washington Post called her "One of the top writers in America" and she has been featured by NPR, Entertainment Weekly, USA Today, Forbes, The Wall Street Journal, and TIME Magazine. Bella also writes the New York Times bestselling Four Weddings and a Fiasco series as Lucy Kevin.
If not behind her computer, you can find her reading her favorite authors, hiking, swimming or laughing. Married with two children, Bella splits her time between the Northern California wine country and a 100 year old log cabin in the Adirondacks.
Website:
http://bellaandre.com/
§ § § § § § § § § §
Jennifer Skully
NY Times and USA Today bestselling author Jennifer Skully is a lover of contemporary romance, bringing you poignant tales peopled with hilarious characters that will make you laugh and make you cry. Writing as Jasmine Haynes, she's authored over 35 classy, sensual romance tales about real issues like growing older, facing divorce, starting over. Her books have passion and heart and humor and happy endings, even if they aren't always traditional. She also writes gritty, paranormal mysteries in the Max Starr series.
Jasmine and Jennifer lives in the foothills of a gorgeous California mountain range, the perfect setting for writing sensual romance, chilling mystery or something guaranteed to make you laugh. She and her husband have a recent addition to the household, an adorable nuisance, oops, adorable cat named Wrigley!
Website:
http://www.jasminehaynes.com/