Synopsis:
Get your heartbeat racing with 13 romantic-suspense novels from USA Today bestselling and award-winning authors. Nerve-wracking thrills and dangers, heart-melting romance and love--enjoy them all in this outstanding collection of DANGEROUS ENCOUNTERS....
See details of complete box set and descriptions of specific novels below. I have included reviews of 4 books included in the box set below.
Disclosure: I was given a free copy of this box set in exchange for an honest review
Links:
Goodreads
•
Amazon
•
Kobo
My Reviews:
Six Days of Memories by Stacy Eaton
Rating: ★★★★
1/2
I really enjoyed
Six Days of Memories
by Stacy Eaton. The book is written in first person point of view, from both Tasha and Jay / Jamie's point of view. As the point of view changes, there are times when the author "back tracks" so the reader can hear how the other character experiences and feels about the previous scene. It's an adjustment from when I usually read a book from multiple points-of-view, but I appreciated being able to hear what the other one was thinking in a scene.
Six Days of Memories is an emotional read. I found myself WANTING Jay to be a good guy and feeling the angst that he and Tasha are feeling as they struggle to fight their feelings for each other that they knew they couldn't act on at the time. I think this book also shows that you're innate feelings about someone's true personality are usually the right ones. It's difficult to talk about much of what I liked about this book without giving away spoilers, but I had to share this quote near the end that gives such an emotional look at Tasha and Jay / Jamie's relationship.
"Abbey had me walking out of the office, my face tense and filled with pain. I stepped out of view and Abbey caught Tasha staring after me, her hand open and lifted as if it were going to reach for something. She slowly closed her hand and lowered it to her side before she sank down into her chair and put her face into her palms.
I watched the video twice.
"What are you going to do with this?" My voice was husky.
"I'm going to save it," she said, and took the phone back from my outstretched hand.
I turned to her. "Why?"
"Because I want to remember what being in love looks like"
Six Days of Memories
is an poignant look into the lives of two people who find their "soul mate" in the most unlikely, and inconvenient of places. The reader is left hanging until the very end to see if Tasha and Jamie are able to overcome their obstacles and find their happily ever after. I won't spoil it - you have to read the book to find out.
Author's Website:
www.stacyeaton.com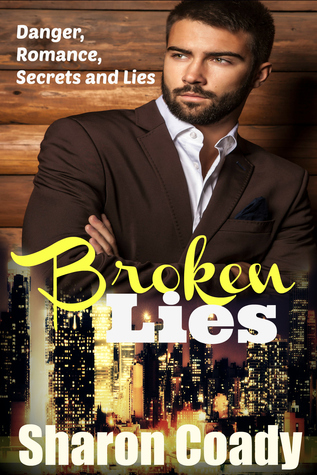 Broken Lies by Sharon Coady
Rating: ★★★
While I enjoyed the story of Niall and Abby, I struggled a lot to get engaged with the story. I felt like I was an outsider looking in, and I felt like that the author was merely skimming over the story instead of digging into the depths of the story. It took me until the very end of the book to realize why I felt that way - the author provides little insights into the thoughts and feelings of the characters. There are times when we are privy to the thoughts and emotions of the characters, but compared with other books where I can read 1-2 complete pages about a single thought process of a character, in this book I found myself reading page after page of just dialogue with little else in between. There were descriptions of the scenes in which the characters were interacting but rarely did I feel like that I could feel what the characters were feeling or experience what the characters were experiencing, and that made me feel that the author merely skimmed the surface of the story. The storyline was interesting but I definitely feel could have been improved had the author incorporated more dialogue into the story to demonstrate the characters actions and feelings, rather than simply
telling
the readers what the characters are feeling and doing.
Author's Website:
https://www.facebook.com/sharon.coady.14
Don't Know Jack by Amy Manemann
Rating: ★★★
The dialog and prose in this book was well written. It flowed well and the sentences were compelling. The story started out promising but unfortunately went downhill quickly for me. Too many times did I have to stretch and eventually suspend my grasp of reality in order to follow this storyline. Too many things ended up just too farfetched and unrealistic to make the story feel plausible to me, making it difficult for me to truly enjoy the book. I found myself reading just to get to the end rather than enjoying the book I was reading.
"Since being with him, Kate felt like an entirely new person had taken over her persona, turning her into a woman who was more poised and confident than the girl she used to be. She didn't worry incessantly over things she couldn't change, and she had to admit her future had never looked brighter".
Kate and Jack had known each other for 2 days at that point, so having such an epiphany and such a complete change in personality is unrealistic in my mind.
It was fun at the beginning to watch how the two characters took just enough of individual conversations or facts that they had, combined with assumptions they had made that were completely off track from reality, to jump to the wrong conclusion about the other. It was fun to watch that aspect of the story play out.
There were also abrupt changes in point of view between characters in this book. It was apparent that the author wanted the reader to garner the emotions of the other character in the scene as it was happening, but the POV changes were often with warning or a scene break, just going along in one point of view and BOOM, new paragraph from the other point of view for a few sentences, and then back to the original POV. It makes it confusing for the reader to know who is speaking at times when this change was abrupt.
Author's website:
http://amymanemann.blogspot.com/
Murderous Lies by Chantel Rhondeau
Rating: ★★★
1/2
I really enjoyed reading
Murderous Lies
by Chantel Rhondeau. This is my first book by this author. I wasn't sure what to expect but was pleasantly surprised. The author creates a compelling introduction to the story, capturing the reader's interest from the first page and keeping them interested until the final shots are fired! The author crafts captivating suspense throughout the story and keeps the reader guessing until the villain is ultimately revealed - its not who you expect!
I love Max's confidence in his feelings for Rose, but his vulnerability after being release from prison was endearing. Rose's struggles with her feelings towards Max war with her feelings about her sister's murder. When Max insists on clearing his name once and for all, he and Rose reach an impasse you aren't sure they can overcome.
There were a times that the story got a bit kitschy and cliche, which is why my rating was a bit lower than it otherwise would have been. All in all it is an enjoyable read and a good addition to the
Dangerous Encounters
box set.
Author's Website:
http://www.chantelrhondeau.com/
Detailed Synopsis:
Fallen Idol –
USA Today Bestselling author Nikki Lynn Barrett
Sparks ignite between a single father and a singer making her musical comeback, but danger lurks in the distance, only getting closer as time goes on. For two people who want different things out of life, it's possible to find healing together...
Cross Examination
- Denise Moncrief
Tamara Slay moves to Louisiana to start a new life with her daughter, but her dreams of a peaceful existence are shattered when Lt. Martin Beck suspects her ex-husband is a serial killer.
Carnival Tricks
- Jade Kerrion
A dying scientist propels a waitress into the shady world of corporate espionage. The unwilling carrier of the recipe for a lethal chemical weapon, can Sofia save the world when she can't even save herself?
Height of Danger
- Nancy & Nolan Radke
How do you keep a woman safe who distrusts you, and won't stay where you hide her? CIA operative Owen Putman has to protect his employer's daughter while trying to find out who is killing construction workers at a Central American dam site.
Six Days of Memories
- Stacy Eaton
Detective Natasha Foster comes across the crime scene of her career, and she will put everything on the line to find out the truth, including her heart. Jay's need to know if he's the victim or criminal pushes him to remember who he is and with the pull of a trigger, Jay's memory will suddenly return and with it, the terrible truth.
Broken Lies
- Sharon Coady
Bodyguard Niall Kerrigan lets his guard down and falls for Abby Bailey, a beautiful woman with a secret past. When Abby goes missing Niall must face his ruthless father to fight for the woman he loves and choose between a life with her or keeping her safe without him.
Don't Know Jack
- Amy Manemann
Undercover FBI agent Jack Hamlin meets his match in small town bakery owner, Kate Monroe, when they're swept into a dangerous game of lies, intrigue and desire.
Cypher
- Cathy Perkins
When ahit man kills the wrong person, a SC detective confronts hidden agendas and conflicting motives in a powerful local family, while trying to control hisattraction to the intended victim—a woman who's hell-bent on saving theremnants of her family.
Murderous Lies
– Bestselling Author Chantel Rhondeau
Max is exonerated for murder after eight years, returning to his home town and the fiancée he left there. Rose isn't so happy to see him...and then the murders start again.
Tidal Falls
- Jacquie Biggar
When Nick fails to notice an IED and loses most of his teammates, he shuts down. It takes meeting and falling in love with a woman in danger to make him realize life's worth living.
Suspended Animation
- Sylvie Grayson
Suspense, spicy romance and attempted murder erupt when hockey player Brett hires Katy to run the office of his ailing father's near-bankrupt trucking company. Can he protect her from her lethal friends and the chaos surrounding them?
Knowing Vera
– Award-Winning, Bestselling Author Rachelle Ayala
Suspenseful romance, an unsolved murder, and love on the beach. A young woman seeks to prove her father innocent of murdering her boyfriend's mother.
Special Agent Francesca
– USA Today Bestselling Author Mimi Barbour
Violence, suspense and sizzling romance explode during Special Agent Francesca's humorous journey fighting off the mob! Dr. Sean Collins wants to tame her! Yeah-like that's gonna happen. Only one thing keeps Francesca motivated. Proving to her mother, the FBI "Snow Queen," that working undercover is where she belongs.