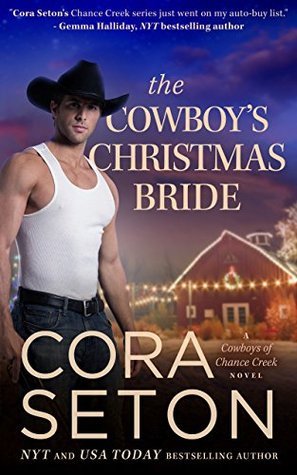 Synopsis:
After traveling around the globe for over a year, Cole Linden is more than ready to return home to Montana, so when his fiancée, Sunshine, suddenly cuts their trip short and books them flights back to Chance Creek, Cole feels like the holidays have come early this year. He hopes she'll love the present he bought her: a restaurant space downtown. If only he can transform it into the sleek, modern style she likes before Christmas, maybe she'll finally agree to set a date for their wedding.
Sunshine can't believe she's pregnant, but she is, which means it's high time to get back home. It also means she needs to re-think her career goals. She can't run a world-class restaurant in tiny Chance Creek—especially not with a baby. So Cole will have to be the breadwinner of the family. Which means he needs a ranch. Luckily she's found one. Three hundred acres of prime ranch land and a wonderful—if dilapidated—house. With Christmas looming, she'll need to race to turn it into the comfortable family home they'll need as soon as they get married.
But when a delayed flight results in the loss of their hotel room, Cole and Sunshine realize they'll have to couch surf through the holidays. Staying with each of their friends in turn leads to a series of revelations that might undermine their relationship for good. Can Cole and Sunshine make it until Christmas?
Or will this be the holiday that ends it all?
Genre:
Contemporary Romance
My Review:
The Cowboy's Christmas Bride
is a "follow-up" to
The Cowboy Inherits a Bride
in that the primary focus is Cole and Sunshine from
The Cowboy Inherits a Bride
. But in a cross between "The Gift of the Magi" and "No Room at the Inn", Cole and Sunshine give the reader a chance to catch up with all of our Cowboys of Chance Creek as they move from home to home each day, looking for a place to stay. It's a really fascinating way to give the reader a check-in with all of our favorite cowboys, as Cole and Sunshine have been away three years and need a catch-up of their own.
Cole and Sunshine struggle with some major communication issues. What starts as secret Christmas gifts turns into anxiety over their relationship and their future together. I struggled mostly with Sunshine as she had made a commitment to Cole to return to Chance Creek after their time abroad and after three years - three years - traveling around the world, she's now debating reneging on that promise. Without discussing it with Cole. She keeps considering making a decision that would affect Cole's life without even including him in the decision. I didn't like Sunshine because of that for a long time in the book, but she did redeem herself in the end.
I felt the author's depiction of their relationship struggles were realistic, where arguments led to not talking, short snips, and cold shoulders at bedtime. Very realistic for a couple that has gotten comfortable together and it was refreshing to see that it wasn't all rainbows and unicorns for Cole and Sunshine. But that said, the lengths to which both Cole and Sunshine went to conceal their secrets (can I just say rock band and line dancing) was hilarious.
All in all, a fun book wrapped up in the spirit of Christmas with a check-in with all of our favorite Chance Creek Cowboys!
Disclosure: I received a free copy in exchange for an honest review.
Links:
Goodreads
•
Amazon
•
Barnes and Noble
•
Kobo
•
iBooks
About the Author:
Cora Seton loves cowboys, country life, gardening, bike-riding, and lazing around with a good book. Mother of four, wife to a computer programmer/eco-farmer, she ditched her California lifestyle eight years ago and moved to a remote logging town in northwestern British Columbia. Like the characters in her novels, Cora enjoys old-fashioned pursuits and modern technology, spending mornings transforming a one-acre lot into a paradise of orchards, berry bushes and market gardens, and afternoons writing the latest Chance Creek romance novel on her iPad mini.
Website: Visit
www.coraseton.com
to read about new releases, locate your favorite characters on the Chance Creek map, and learn about contests and other cool events!