Tara Carter isn't looking for romance. She's content seeing patients at her new practice by day, then going home and cuddling with her puppy at night. Her new life in the tiny town of Anderson Butte, Colorado—known by celebrities as the place to lie low—is the perfect respite for a woman with a whopper of a secret. There's just one problem: the town's sexy sheriff knows she's hiding something.
Sheriff Ryan Anderson, weary of small-town drama, has sworn off dating locals and thinks a fresh start in a bigger city is in order. However, the more he gets to know Tara, the more his heart tells him that she could be the woman of his dreams. But he wants to get to the bottom of whatever she's trying so hard to keep under wraps. Can he uncover her secret before it drives them apart forever?
Genre: Contemporary Romance
It Had To Be Love is the story of Tara and Ryan set in the wonderful, fictional town of Anderson Butte, where all of the businesses are part of one big corporation, and where everyone gets a 401(k) and health benefits, as long as they follow the rules. It's a fun, interesting concept. There is also an underlying story a la "the Hatfields and the McCoys" between the Andersons and the Grants which is exacerbated in this story by the mystery of a hidden moonshine recipe and barrels of aged whiskey! All of this, though, just serves as the setting for their wonderful, suspenseful love story.
You would expect the two least likely to get together would be a straight-laced sheriff and a woman with a secret she's keeping - but it works. Ryan has a strict "no dating in town" policy and has taken it to the point that he's decided to move in order to find a wife and start a family. But he's intrigued by the new resident of Anderson Butte who he KNOWS is keeping secrets. He can't help himself but trying to solve that mystery. I love how this relationship develops, with Tara letting little bits of her secret be revealed as she and Ryan get closer. Ryan and Tara have a wonderful repartee and the author does a great job of writing Tara's dialogue to deflect Ryan's question, and Ryan's dialogue as a character who clearly doesn't like or need to talk much. I thought his "mid-week" phone call to Tara was fantastic, because she told him that's what a good boyfriend does. It was like he was "checking the box" and it was hilarious!
There are suspenseful undertones throughout the story as Tara's secret is revealed and the suspense both draws Tara and Ryan together and pushes them apart. Add in the wrench of an old girlfriend all of a sudden available, meddling sisters (who are a wonderful addition to the comedic element of the story), and let's not forget Grandma, who is still toting her shotgun but has added night vision goggles to her arsenal. Ryan's mild-mannered personality is the perfect peace maker for all of the crazy personalities in his family and in town. A great addition to the Anderson Butte series.
Disclosure: I received a free copy of this book in exchange for an honest review.
About the Author: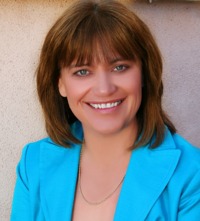 Tamra Baumann became hooked on writing the day she picked up her first Nora Roberts novel from her favorite bookstore. Since then, she's dazzled readers of contemporary romance with her own lighthearted love stories. She was the 2012 Golden Heart winner for Contemporary Series Romance, and has also received the Golden Pen Award for Single Title Romance. Born in Monterey, California, she led the nomadic life of a navy brat before finally putting down permanent roots during college. When she's not attending annual Romance Writers of America meetings, this voracious reader can be found playing tennis, traveling, or scouting reality shows for potential character material. She resides with her real-life characters—a husband of thirty years, two kids, and their allergy-ridden dog—in the sunny Southwest.
Website:
http://www.tamrabaumann.com/