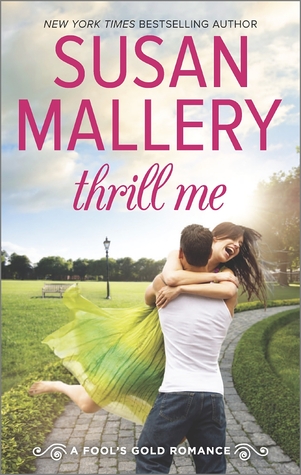 Maya Farlow learned the hard way to depend only on herself, so when she fell too deeply for the bad-boy charms of Del Mitchell, she did the only thing she could—she ran. Stunned, Del left Fool's Gold to make his name and fortune in extreme sports.
Now ten years later, Maya's been hired to promote her hometown's new slogan, The Destination for Romance. The celebrity spokesman is none other than Del, the man she dumped but never forgot. Awkward!
Although Del's not the type to hold a grudge, he's determined to avoid falling a second time for the woman who broke his heart. He's a daredevil, not an idiot. Trouble is, in all his adventures, he never found a rush as exhilarating as Maya's kiss. Maybe risking his heart will prove to be the biggest thrill of all…
Genre: Contemporary Romance
Just when I was ready to write off Fool's Gold as jumping the shark, Susan Mallery has done it again - she has sucked me back in and made me fall in love with Fool's Gold all over again.
As with all of Susan Mallery's book,
Thrill Me
is a very well written book. The storyline flows effortlessly, the development of the characters is compelling, and the emotion is woven wonderfully into the story until you can no longer tell whether the emotions you are feeling are yours or the characters in the book. I found myself tearing up several times while reading this book - a sure sign that the author has created a book that touches your heart.
I think what struck me the most about Del and Maya's relationship is that it just happens. It didn't happen like a normal relationship - boy meets girl, boy asks girl out, girl stresses over what to wear, boy and girl date, boy and girl kiss, boy and girl have sex. Del and Maya had a relationship previously, so it was natural for them to reconnect when they both found themselves back in town and working together. A comfortable working relationship progresses into a couple of innocent kisses, and then Del and Maya are back together again. And then they're just working partners again, and then they're together. They never define their relationship - they just happen into it. It is especially interesting when the characters observe that's how their relationship happened.
I love the brother dynamic of the Mitchell brothers. Del is a wonderful character with a great personality and fills his own spot in the family, but the author has opened the door to a lot of future stories about the Mitchell brothers by showing secrets that each of them is holding close - there are many we are only teased with and don't know the complete story yet, ourselves. And I look forward to heading to Happily, Inc. where two of the brothers have moved.
Susan Mallery hit a home run with
Thrill Me
and has a recommitted fan of Fool's Gold. Just when I was ready to close the door on a great small town, deciding their stories had all been told, she has set us up for so many stories in the future.
Links:
New York Times bestselling author Susan Mallery has won the hearts of millions of readers around the world with books described as "immensely entertaining, intensely emotional" (RT Book Reviews), "hilarious" (Fort Worth Star-Telegram), and "heartwarming" (Publishers Weekly). One major retailer recently described her as "the queen of romantic fiction." While she deeply appreciates the accolades of critics and booksellers, Mallery is even more honored by the enthusiasm of her readers and the word-of-mouth that catapults her toward the top of the bestsellers lists time and again.
Mallery lives in not-so-sunny Seattle with her husband, plus a toy poodle and two ragdoll cats who are not at all impressed by her growing fame.
Website
:
www.SusanMallery.com