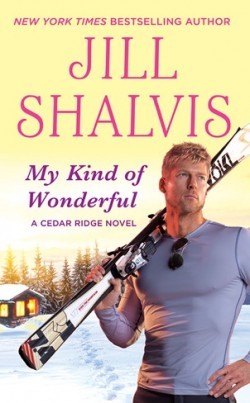 UNEXPECTED AND UNDENIABLE...
Bailey Moore has an agenda: skiing in the Rockies, exploring castles in Europe, ballroom dancing in Argentina. Now that she has a second lease on life, she's determined not to miss a thing. What she doesn't realize is that item #1 comes with a six-foot-one ski god hot enough to melt a polar ice cap. She doesn't want to miss out on him either, but Hudson Kincaid isn't the type of guy to love and let go. And as gorgeous as Cedar Ridge is, she's not planning to stick around.
As head of ski patrol at his family's resort, Hud thinks he's seen it all. But never has he run into someone like Bailey. She might look delicate, but her attitude is all firecracker. And her infectious joy touches something deep within him that he's been missing far too long. Now he'll just have to convince Bailey to take a chance on her biggest adventure yet . . . something rare and all kinds of wonderful.

I was a bit skeptical going into "My Kind of Wonderful" as I struggled a bit with the first book in the Ribbon Ridge series. But all of my concerns were for naught. This book was everything I look for in a Jill Shalvis novel and more. Hudson is the epitome of an alpha hero, but he's sensitive and completely tuned in to Bailey from the moment he meets her. His emotions run deep, especially his guilt and it casts a shadow over everything he does. Until he meets Bailey.

Bailey is strong character and I love her spirit. One would think she'd have used up that strength fighting her battles over the past few years, but she has come out stronger and more determined that ever. That determination comes through immediately in her dealings with Hudson and his entire family. She's just the type of strong personality he needs. She stands up to him and challenges him in ways he didn't know he needed.

I love the family dynamic of Hudson with his siblings, and also his mother. Her suffering is awful, but her kids are wonderful with her and when she is "present", she's got a wonderful free spirit about her. And I just have to say that the running family joke among the siblings was really quite hilarious and presented itself at just the right time in this story.

And not specifically related to "My Kind of Wonderful", I especially enjoyed the teaser for the next book in the series in the back. That's one book I've already one-clicked!

Disclosure: I received a free copy of this book in exchange for an honest review.
New York Times and USA Today bestselling author Jill Shalvis lives in a small town in the Sierras full of quirky characters. Any resemblance to the quirky characters in her books is, um, mostly coincidental. Look for Jill's sexy contemporary and award-winning books wherever romances are sold and click on the blog button above for a complete book list and daily blog detailing her city-girl-living-in-the-mountains adventures.