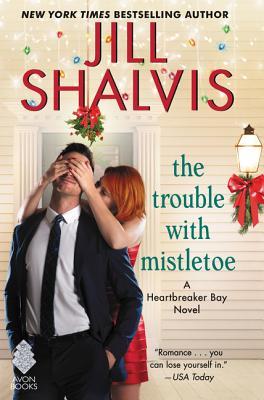 Synopsis:
If she has her way . . .
Willa Davis is wrangling puppies when Keane Winters stalks into her pet shop with frustration in his chocolate-brown eyes and a pink bedazzled cat carrier in his hand. He needs a kitty sitter, stat. But the last thing Willa needs is to rescue a guy who doesn't even remember her . . .
He'll get nothing but coal in his stocking.
Saddled with his great-aunt's Feline from Hell, Keane is desperate to leave her in someone else's capable hands. But in spite of the fact that he's sure he's never seen the drop-dead-gorgeous pet shop owner before, she seems to be mad at him . . .
Unless he tempers "naughty" with a special kind of nice . . .
Willa can't deny that Keane's changed since high school: he's less arrogant, for one thing—but can she trust him not to break her heart again? It's time to throw a coin in the fountain, make a Christmas wish—and let the mistletoe do its work . . .
Genre:
New Adult Contemporary Romance
My Review:
Another great visit back to Heartbreak Bay and the cast of characters that live in and around there. In
The Trouble with Mistletoe,
the author introduces two flawed, "damaged" people who are practically perfect for each other. I love the introduction where our heroine, Willa, realizes early on that the man who has no idea who she is is the one who broke her heart, without even knowing it, in high school. Thus begins a journey for each of them that winds its way through their neuroses, friendships, fears, and hopes, and lands with the two of them in love with each other. Each has fear of commitments, but for different reasons, and each has to let go some of their control, and be willing to take a risk, in order for them to find happiness.
The Trouble with Mistletoe
includes lots of laughs, many animal hijinks, friends looking out for friends, and friends challenging each other to look beyond the surface for the reality, and the chance for love, that lurks just below the surface.
Disclosure: I received a free copy of this book in exchange for an honest review.
Links:
Goodreads
•
Amazon
•
Barnes and Noble
•
Kobo
•
iBooks
•
Google Play
About the Author:
New York Times and USA Today bestselling author Jill Shalvis lives in a small town in the Sierras full of quirky characters. Any resemblance to the quirky characters in her books is, um, mostly coincidental. Look for Jill's sexy contemporary and award-winning books wherever romances are sold and click on the blog button above for a complete book list and daily blog detailing her city-girl-living-in-the-mountains adventures.