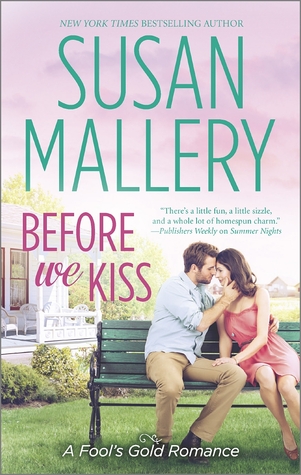 Former pro-football kicker Sam Ridge has notoriously bad luck with women—from cheaters to fame chasers. Still, the gorgeous brunette at the bar in Fool's Gold looks harmless—until she takes him home and he discovers a room devoted to securing a man, for life.
Dellina Hopkins never guessed that storing gowns from a friend's bridal boutique would chase away her first and only fling. After her parents died, she skipped her "wild youth" to raise her sisters. She doesn't want forever from Sam, but one night—all night—would've been nice.
His clean getaway gets messy when his firm hires Dellina to plan an event. As long hours lead to late nights, the two succumb to temptation again. Has Sam's luck finally changed? Or this time, will Dellina be the one to run?
My review:
** spoiler alert** Before we Kiss was a great addition to the Fools Gold city. I always enjoy being able to catch up with previous characters through the storyline of subsequent books, I LOVED the addition of Sam's parents. His parents complete lack of inhibitions when it comes to their - or anyone else's lives - was fun to watch. It was even more fun to watch Sam's reaction to their comments. Over and over I was laughing as I read something his over the top mother would say and his reaction to it. I really appreciated how he "benefited" from his mother's comments in his relationship with Dellina - like when he told her "that was it" in response to her previous question after their encounter in the bathroom. In the end, I was thrilled to see that Dellina told his mother that she was too over the top with other people's lives and feelings, and Sam accepted her apology with a joke! (not quite rated PG to put here). And in the end, Sam stepping out of his comfort zone to demonstrate his love to Dellina was a perfect ending to their love story.
Amazon:
Amazon Listing
Goodreads:
Goodreads Listing