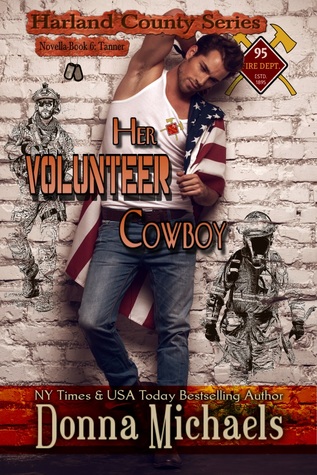 Synopsis:
Sparks reignite when one-nighters reunite. Can the firefighter/Guardsman convince the reforming bad girl she's worth fighting for, or will she leave before he finds the courage to volunteer his heart?
Cowboy Tanner Hathaway, part time firefighter and National Guardsman, is great at volunteering his time, never his heart, but when his Pocono one-nighter shows up in Texas to help a friend, sparks ignite a flame neither of them expect. Can the county's bad boy, convinced the reforming bad girl she's worth fighting for, or will she leave before he has the courage to volunteer his heart?
My Review:
I always love coming back to Harland County, TX! Donna Michaels has introduced us to yet another wonderful, alpha, military, cowboy hero in Tanner. And add in a firefighter to boot. This guy is just about the perfect alpha hero. He even takes special care of an older man - his mentor - as his health is failing. It's hard to believe that with all of that going for him that he hasn't been snatched up yet. But perhaps he'd just been waiting for the right woman - and has likely found her in Gwen.
We met Gwen briefly in a previous book and she's a nice tie-in to the author's Citizen Soldier series (the Wynes). She's in town to help out while we meet the next generation of Harland County - the birth of Jordan's baby. We the reader discover early that Gwen and Tanner had met before and the heat they exuded in the Poconos has traveled clear down to Harland County, because the sparks between Gwen and Tanner are flying.
I liked how Gwen and Tanner both have some emotional baggage holding them back - Gwen with her years as a model and behaviors she's reformed, and the impact of those behaviors that she's still feeling. Tanner, who seems to be the one who is always helping, always volunteering, is struggling with his mentor declining due to Altzhimers. The two have some hiccups in their road to happily ever after, especially when Tanner lets his anger get the best of him. But, they are both good communicators and are quick to realize what they were to each other.
The author provides a very sensitive look into life with a person with Alzhimers and the emotional impact it has on the patient as well as those around him. I thought it was very tastefully done and gives me a look into those living with the disease.
One thing I really liked about this book is how the author transitions from one point of view to the other. In many books, you'll be hearing from one point of view and then they'll be a break - a chapter break or a section break - and then it'll be the other character's point of view. In this book, a scene will progress and all of a sudden, as the reader, I would realize I was hearing from the other character and I didn't realize it. I thought the best example of that is when Gwen was talking to her girlfriends in the ice cream shop, talking about men of course, and the men walk in. They join the conversation and almost immediately she's able to shift to Tanner's point of view. It was so seamless that I had to go back and find where it changed. I thought it was fantastic.
Links:
Her Volunteer Cowboy is currently available as part of the 12-Alarm Cowboys Box Set
Goodreads
•
Amazon
•
Barnes and Noble
•
Kobo
•
iBooks
About the Author:
It's all my mother's fault.
She read to me before I could read and opened up that magical world where I still reside today. Then came television and movies. Now I had three avenues that fed my imagination...and boy could I eat! As you no doubt figured out, this lead to my writing career. I'm a NY Times, USA Today, and Amazon Bestselling Award winning author. Phew, that was a mouthful! Multi-published in e-book and print with several publishers, I certainly have a ton of voices in my head.
I'm happily married to a military man for 28 years. We have four children and several rescued cats. Michael's been in the Army National Guard since before he graduated. The Guard has been a part of our lives right from the start. It was only natural for the military to spill into my writing. God bless the military and their families. Thank you all for your sacrifices. ♥
You already know my mom inspired my love of reading,but it was my dad who got me hooked on movies. Even now, if I had the time, I could happily go from one movie to another all day long. They are the reason I love mixed genre and why I can't just stick to just one in my writing, although, as you can tell, I have a soft spot for cowboys and the military.
Well, that's about it. Thanks for getting to know me a little better. Remember, keep reading to your children. The journey you're igniting is precious. And the next time you're at the movies, turn around. I just might be the person sitting behind you. No, not the one throwing popcorn (it's too expensive to waste). I'm the one already imagining the sequel.
Website:
http://www.donnamichaelsauthor.com/